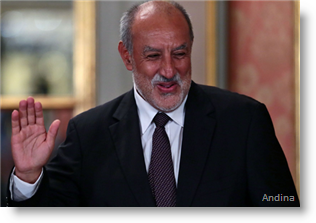 Peru's new Mines and Energy Minister, Eleodoro Mayorga, said during the world's biggest mining conference this week that Peru will continue to work on attracting investments in the sector.
Mayorga, who has been in office for a week, was in Toronto leading the Peruvian delegation attending the Prospectors and Developers Association of Canada conference. The annual conference, known as PDAC, is the largest mining event in the world.
"I want to emphasize to all of you the country's commitment to continue working with businesses that are willing to risk, that want to develop in a sustainable way and that want to leave some wealth in the towns where they work," said Mayorga, according to daily El Comercio.
He said that President Ollanta Humala's administration will do everything necessary to continue to attract mining investments.
The mining sector is a key component in Peru's overall economy. It attracts the bulk of Peru's foreign investment, contributes an important portion of government tax revenue, and makes up about 60 percent of the country's exports. However, some projects have been opposed by rural Andean communities concerned about mining's impact on the environment.
President Humala has tried to end those conflicts, but many of the cases are still unresolved and the result is that some companies, facing the political climate as well as lower mineral prices,  put their projects on hold.
Mayorga was appointed to the Mines and Energy Ministry last Monday, replacing Jorge Merino during a cabinet shuffle that was triggered by the resignation of the Premier, Cesar Villanueva. Mayorga, a petroleum engineer with experience in the World Bank,  is the third minister to lead the portfolio since Humala became President in 2011.  His speech in Toronto was his first public presentation since becoming the Mines and Energy Minister.