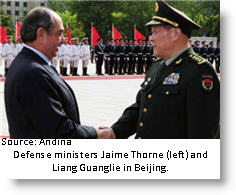 Peru and China have signed an agreement to boost cooperation on military technology and science, according to state news agency Andina.
Peruvian Defense Minister Jaime Thorne said Peru has been interested on expanding its military cooperation with China.
China's Vice-President of its Central Military Committee, Xu Caihou, said the agreement is a reflection of the countries' increasing ties in recent years in politics, economics and cultural areas.
"The bilateral relations have entered a new phase of development since 2008, when Chinese President Hu Jinatao and his Peruvian counterpart Alan Garcia exchanged visits, establishing a strategic association between the two nations," Caihou said.
"China hopes the two countries can do joint efforts to advance the friendly cooperation between the two armies," Caihou added.
China has played an increasingly larger role in Peru, particularly in the economy. In 2010, the first year of the bilateral free trade accord with China, Peru's exports to the Asian country rose 43 percent to $10.5 billion.
In addition, in the first two months of 2011, China overtook the US as Peru's top destination for exports, driven by China's strong demand for commodities to feed the ongoing industrialization and urbanization.