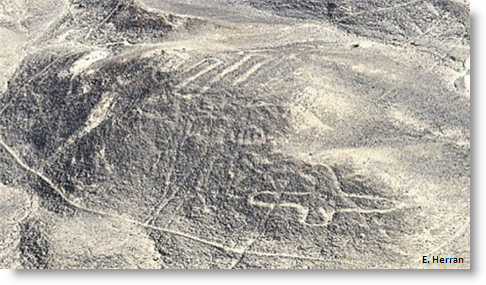 Strong sand storms have revealed a number of new geoglyphs in the Nazca desert that experts say most probablybelong to the Paracas culture (400 BC -200 AD), daily Peru.21 reported.
The desert plains of Nazca are already well-known for large drawings etched into the ground that include a monkey, spider, hummingbird and other figures that became famous with the studies and conservation work by German mathematician Maria Reiche.
The new site, which includes the drawing of a snake, were reportedly discovered by a pilot who was flying over the El Ingenio valley, located in southern Peru's Ica region.
"They are enigmatic drawings that would be more than 2,000 years old," the pilot and researcher, Eduardo Herran, said.
According to Italian archaeologist Giuseppe Orefici, who has worked in the Nazca and Palpa areas since 1977 and is director of the Antonini Museum in Nazca, the new finds include the drawing of a serpent, a bird with open wings and a very short tail, and a clear zigzag outline next to another bird drawing of which only the claws and lower part of the body are now visible.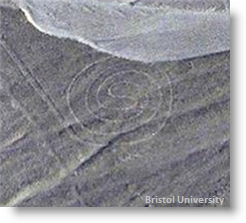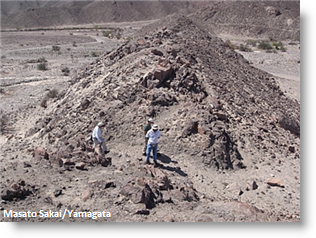 Ruben Garcia, the director of archaeological heritage at Ica's Culture Office, called the discovery a "valuable contribution to the knowledge of the ancient Nazca people."
In late 2012, archaeologists from Bristol University discovered a three circuit labyrinth (photo left), four kilometers in size, which is believed to have been drawn some 2000 years ago.
A year earlier, a multidisciplinary team headed by archaeologist Masato Sakai of Yamagata University, Japan, and co-director Jorge Olano found a series of lines leading to 138 circular mounds (photo, right), as well as two animal figures.