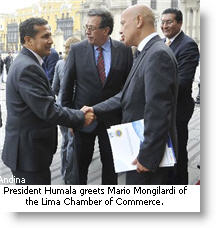 Business leaders in Peru met late Tuesday with President Ollanta Humala, in another move taken by the government to boost confidence in the private sector.
Leaders of the Peruvian export association Adex, the Lima Chamber of Commerce, the National Society of Industries, banking and insurance, and Peru's biggest business association, Confiep, all met with Humala at the presidential palace.
The meeting was to provide the business leaders with information on government measures to boost business and the economy. Economic growth in Peru slowed in the first quarter, and the government has been looking for ways to ensure that confidence remains strong. President Humala announced recently a package of measures to speed up private investment.
Participants also discussed issues in education, public safety, infrastucture, the international economy, and Peru's vast informal sector, which the government seeks to regulate.
Confiep president Alfonso Garcia-Miro said the President has an inventory of public works that he needs to begin developing in the second half of this year to ensure economic sustainability. At the same time, he also said the business community fully supported the government's work in social inclusion, plans "that have not been considered in other administrations."
"Entrepreneurs are clear that this initial package of measures are a first step to contributing to national development, but a second step is necessary," said the Lima Chamber of Commerce's vice president, Mario Mongilardi, in a later statement.  "This has been favorably received by President Ollanta Humala and his seven ministers that accompanied him."