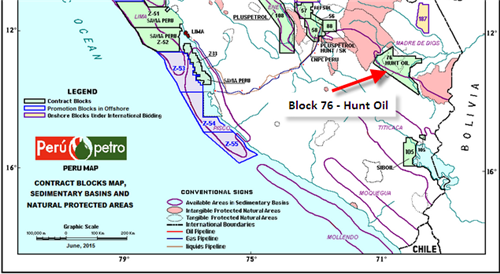 The Ministry of Energy and Mines has granted a three-year extension to Hunt Oil for its exploration phase in Block 76, located in the southern Peru rainforest in an area that lies between the provinces of Manu and Tambopata in Madre de Dios, and Cusco and Puno.
The concession to explore and develop gas and oil fields was first granted in October 2005, and the renewal is being signed by Perupetro for the state and the consortium formed by Dallas-based Hunt Oil Exploration and Production Company and Pluspetrol of Argentina.
Hunt Oil operates Peru LNG, located on Peru's south coast and the first gas liquefaction plant in South America. The natural gas is brought by pipeline from the Camisea gas fields in the Cusco rainforest along the world's highest pipeline, which climbs to 4900 meters above sea level in Ayacucho.
For a full map of oil and gas blocks, either being explored, developed or up for concession, see Perupetro's page here.