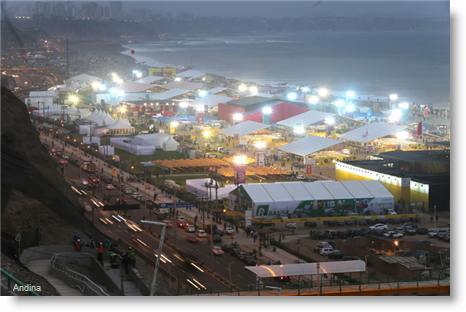 Latin America's biggest food festival opened its doors to the public on Friday, bringing together chefs, restaurant owners, farmers and everyone else in the food business from across Peru and other parts of the world.
The 10-day annual event, known as Mistura, is being held along the Costa Verde beach in Lima's Magdalena del Mar neighborhood. The slogan this year is "Eat delicious food. Eat nutritious food. Eat Peruvian food."
This is the seventh annual fair, created by Peru's culinary hero, Gaston Acurio, and other chefs and businessmen to not only promote Peruvian cuisine but also the produce used in the different eco-regions of the country.
On its website, Mistura advertises: "We are recommending Peruvian cuisine as a healthy, delicious, and nutritious alternative, stressing locally grown produce, and praising the work of small farmers in our three major geographic regions: coast, mountains, and jungle. These two elements: produce and farmers, are key links in the production chain that starts in the fields and ends up on our tables. "
This, in fact, has been a key focus since the start of Mistura and the organization behind it, the Peruvian Gastronomy Society, Apega.  The series of talks and cookery classes given to the general public equally feature local cooks and internationally famous chefs.
"We have chosen these foundations upon which to build the 2014 Mistura Food Fair, which will shine a spotlight on Peru's symbolic foods that are deeply rooted in our culture, still served today in homes and restaurants across the country, and form part of the different regional cuisines," the organization said.
In addition to the some 200 restaurant stalls —offering carefully selected street vendor type food to gourmet cuisine—  there will also be a market where visitors can buy products from farmers who have traveled to Lima from around Peru. The Mistura organization helps finance much of the transport for many of the farmers from remote areas in the Andes and the Amazon.
The food fair will be sectioned off into 12 culinary "worlds," with one area devoted to Andean and Amazonian foods, and another with stalls serving Peruvian-Chinese food known as chifa. There is also a "liquid world," including cocktails and other drinks, and a space dedicated to cacao and chocolate, as well as traditional bread baking techniques from around the country.
Entrance tickets to Mistura can be bought at Teleticket in Wong or Metro supermarkets, as well as at Door 1 at the festival. Tickets are 25 soles for adults, and 10 soles for children from Thursday to Sunday.  From Monday to Wednesday, ticket prices are 15 soles adults and eight soles for children.
More information on Mistura is available here.
Peruvian food is widely celebrated. This week, Peruvian chef Virgilio Martinez's Central restaurant in Lima was crowned as the top restaurant in Latin America by an annual San Pellegrino-sponsored contest. Astrid y Gaston, founded 20 years ago by Acurio, came in second, while several other Peruvian restaurants were in the top 50.