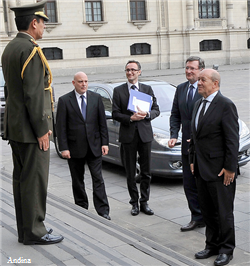 Defense Minister Pedro Cateriano met with his French counterpart, Jean-Yves Le Drian, on Monday to sign bilateral agreements related to the military and other defense issues, daily La Republica reported.
The signing of the defense accords comes only weeks after President Ollanta Humala met with French President Francois Hollande in Paris. The unscheduled meeting was criticized by opposition politicians in Peru because Humala had not sought or received approval from Congress, as required under the Constitution. Humala, who was on his way back from meetings in Asia, denied any wrongdoing in meeting with Hollande during the stop-over in Paris.
According to Cateriano, one of the agreements signed between the ministers is related to cooperation on defense issues, while another is related to the protection of information and classified information.
Cateriano also said that Peru will seek to conduct joint operations with France in military issues. He said that Peru purchased a satellite from France, as well as four helicopters.
The helicopters will be used by police in metropolitan Lima to help fight crime, according to reports.
France also agreed to support Peru on combating illegal gold mining, a major challenge facing the Andean nation.