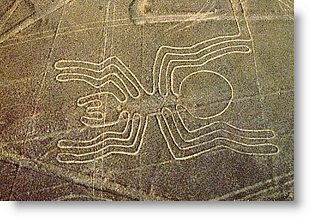 Six people were injured, including four foreign tourists, when a small airplane crashed shortly after taking off for an aerial tour of the famed Nazca Lines in southern Peru.
The tourists were on board with a pilot and copilot in a 1982 Cessna 206 plane, owned by Aero Palcazu, which organizes flights over the ancient geoglyphs.
The accident occurred just after the plane had taken off, according to daily El Comercio, fortunately falling only about five meters to the ground and knocking over various light posts after it had left the Maria Reiche airport, located on the outskirts of Nazca city.
The injured passengers were receiving medical treatment in a hospital in Nazca, located about eight hours south of Lima.
The Nazca Lines are one of Peru's most popular attractions. Tourist planes routinely fly over the ancient geoglyphs, which are miles long and depict animals such as monkeys, llamas, hummingbirds and spiders. Maria Reiche and subsequent prominent scientists who have studied this UNESCO heritage site, say the lines were created between 500 B.C. and A.D. 500. They are among archaeology's greatest enigmas.
However, and although it is really the only way to see the geoglyphs, flight safety over the lines has been a concern in the past for tourists. In 2008, five French tourists died in a crash, while in 2010, 13 people were killed in two different accidents of different aircraft companies, leading the National Tourism Chamber to call for technical audits of the planes used in Nazca.