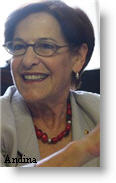 President Ollanta Humala's Nationalist Party will not say who it will support during the recall referendum to be held in March against Lima's leftist Mayor Susana Villaran, a high-ranking party member said.
"In respect for democracy, the Nationalist Party should not adopt an official position because it could be misinterpreted," said Congressman Daniel Abugattas, a close ally of President Humala and former president of Peru's parliament.
"Don't forget that we are the party currently governing the country and we should be cautious about the political maneuvering," he said, according to state news agency Andina.
While the Nationalist Party won't take an official position on the recall vote, several of the party's local committees have come out against the referendum. According to Abugattas, 46 of the party's district committees in Lima have said they will support Villaran. "The district bases have made their decision," he said.
President Humala's administration is supporting Villaran in other ways. The President was present at the city's 476th anniversary celebrations, not as a cameo appearance but for the entire ceremony when Villaran presented her annual report.   And this past Monday, Mayor Villaran was awarded recognition by the Minister for Women and Vulnerable Populations, Ana Jara, for social inclusion in employment.  Since Villaran was elected mayor of Lima two years ago, 121 handicapped persons have been incorporated into the city council's work force, well above the percentage now required by law .   The recognition ceremony, however, was made at the Lima Chamber of Commerce  to avoid any overt government connection.
Villaran won the 2010 mayoral election by coming from behind to defeat prominent politician Lourdes Flores. However, Villaran has been heavily criticized by a tight opposition group ever since she was elected, two months before she actually took office, and today her popularity ranks around 20 percent to 25 percent. Her opponents say that she has mismanaged the municipality and has been ineffective in completing municipal works.
Leading political analysts believe the campaign against Villaran has been led behind the scenes by Lima's previous mayor, Luis Castañeda, since people close to him have financed and led the recall move and congressional members of his party have openly supported the campaign.
In the tradition of previous mayors, and of Castañeda himself when he was first elected, Villaran called for an audit of the previous administration when she first took office in January 2011. She was critical of Castañeda's eight-year administration of the city and after the audit the judiciary began a formal investigation into allegations of corruption.
Villaran has been credited with tackling several challenges in Lima, including a major plan to better modernize and organize public transport, and relocate a crime-ridden wholesale market close to the city's downtown area.
Observers have said that the March 17 vote, which could see Villaran removed from office, will set a bad precedent for future mayors in Peru's biggest city.
Prominent Peruvian politicians have largely taken sides. Among those supporting Villaran are former president Alejandro Toledo and his Peru Posible party, former Prime Minister and presidential candidate Pedro Pablo Kuczynski, as well as Flores' center-right Popular Christian Party.
In addition to Castañeda and his allies, those supporting Villaran's removal from office include two-time former President Alan Garcia and his Apra party.