American multinational food and beverage corporation PepsiCo is to invest $3 million over the next three years to create its Agricultural Development Center of Peru (CEDAP), the company said in a release.
PepsiCo chairman and CEO, Indra Nooyi, met President Alan García on Tuesday to explain the company's plans for CEDAP, which will be the company's first of its kind in Latin America — the company has a similar center in Rhinelander, Wisconsin, and an agricultural research partnership in Europe with the University of Cambridge.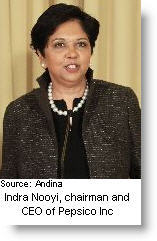 "Peru has long been an important market for PepsiCo, and the investment we're making in this world-class research and development facility demonstrates our long-term commitment to the country as well as to Latin America as a whole," Nooyi said.
The center is to focus the development of new potato varieties as well as other tubers and roots, the release said. Through its research, CEDAP will also look to develop new varieties of roots and tubers to improve PepsiCo's product portfolio. 
In addition, CEDAP will provide innovative technical support to the 300 potato farmers in Peru that currently supply PepsiCo. "The goal is to improve not only the quality of the harvest, but above all, the well-being and quality of life in the areas of production," the company said.
PepsiCo Foods' South Andean general manager, Antonio Escalona, said Peru provides a diversity of potatoes for the company unlike any other area.
"Because of Peru's biodiversity, this is the only place in the world where PepsiCo uses not only traditional white potatoes, as we do for Lay's Classic potato chips, but also different native potato varities," Escalona said. "For example, here in Peru we use native Andean potatoes for Lay's Andinas and the yellow potato for Lay's Peruanisimas, which makes us very proud."
The commercialization of native potatoes and the development and promotion of the wide variety of Andean potatoes available to the wider market today, both from Peru and Bolivia, is the result of more than 35 years of work by the International Potato Center (CIP) , based in the La Molina district of Lima and which works with scientists from more than 15 countries.  A member of the consultative group of international agricultural research centers, CGIAR, its projects include the Andean region as well as development of roots and tubers in India, Asia and Africa. 
Loans for small recyclers
During her visit, Ms. Nooyi also said that PepsiCo is part of a group launching a micro-credit program for garbage recyclers, through Ciudad Saludable and Caja Nuestra Gente. The program is also funded by the Avina Foundation, Fundación Atocongo, and the Inter-American Development Bank's Multilateral Investment Fund. 
PepsiCo has interests in more than 200 countries with revenues of nearly $60 billion per year. Its main brands include Frito-Lay, Quaker, Pepsi-Cola, Tropicana and Gatorade.