American Lori Berenson was granted parole on Friday by a Peruvian judge after serving 15 years in prison for aiding leftist MRTA rebels in the 1990s.
Judge Jessica Leon released Berenson, who was eligible for parole after serving three-fourths of her 20 year sentence, daily El Comercio reported.
Leon had ordered Berenson's release earlier this year, but the New Yorker was sent back to prison after an appeals court rescinded her conditional release on the ruling that it was flawed because police had failed to confirm where she would be living while out on parole in Lima.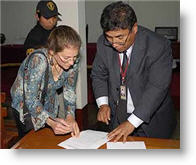 The decision to parole Berenson for a second time is also based on a report by national penitentiary institute INPE outlining her good behaviour while in prison and a letter in which Berenson expressed her regret for harm she had caused Peru.
The judge also noted that there were no incidents reported while Berenson was living in a Miraflores department after the first parole earlier this year.
Berenson has been authorized to return to the Miraflores department with her 17-month-old baby boy, Salvador, who was born and had been living in prison with his mother.
Lori's parents, Rhoda and Mark, said in a email that their daughter and grandson will be leaving prison in the coming days.
"Unfortunately, it is expected that once again the State Prosecutor will appeal this decision to a higher court – a process that could take another two-to-three months," the email said.
The state prosecutor, Julio Galindo, argues that Judge Leon has mistakenly used a law governing reduced sentences for work and study that, Galindo says, is not applicable to prisoners convicted of terrorism.   The minister of Justice, Rosario Fernandez, expressed her "absolute consternation" on the grounds that three- quarters of the sentence had not yet been completed.
Berenson was arrested on a public bus in downtown Lima on November 30, 1995, along with the wife of a top leader of the Tupac Amaru Revolutionary Movement (MRTA). She was charged with helping plan a thwarted takeover of Peru's Congress and sentenced to life by a secret military court for "treason against the fatherland." But that conviction was vacated in 2000 and she was retried and convicted the following year by a civilian court.