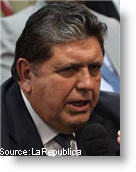 Peru's Public Ministry is to open an investigation into the recent purchase by former President Alan Garcia of an almost million dollar house in Lima, according to anti-corruption prosecutor Julio Arbizu.
Garcia said he recently bought a house for $830,000 in Lima's leafy Miraflores district, following several years of living in a "borrowed" house in the upscale suburb of Casuarinas.  
Garcia, who governed Peru from 1985 to 1990 and 2006 to 2011, said he was able to pay for the house with money he earned from giving speeches to national and international audiences. Garcia said that he charged about $50,000 per presentation and that he had had 23 contracts since he left office in 2011.
The question of Garcia's purchase —he allegedly also owns an apartment in Colombia and another in the 5th arrondissement in Paris —came up after members of Garcia's party called for an investigation into possible money laundering by former President Alejandro Toledo, because his mother-in-law has bought a house in the upscale Casuarinas district for $3.75 million.
Toledo said this week that the accusations against him are being made because he has publicly supported Mayor Susana Villaran in the recall campaign.
But Garcia's wish to show his own purchase as humble in comparison with Toledo's alleged real estate moves, has landed him in the awkward position of drawing attention to the house he has been renting in Casuarinas, which is owned by Jorge Baca, a former Finance Minister in the Fujimori administration.  Baca was sentenced to three years in prison in December last year for the irregular purchase of 32 fighter jets from Bielorussia, and was also accused of being involved in the tax "protection" list of  allies in the Fujimori administration.   
According to the prosecutor on corruption cases, Julio Arbizu, the house has an embargo order on it, and the rent that Garcia has been paying should be impounded to cover Baca's court fines.   Garcia denies any knowledge of the legal situation of the house.
The situation is "very suspicious," Arbizu was reported as saying by state news agency Andina.
There are numerous allegations of widespread corruption among high-ranking government officials during Garcia's time as President, and a "mega" commission in Congress, led by Sergio Tejada, is now expected to add Garcia's real estate purchase to its long list of investigations.
During Garcia's last term, a scandal known as petroaudios (corruption discovered by illegal phone tapping at Petroperu), resulted in a major cabinet shuffle and the resignation of Prime Minister Jorge del Castillo. Del Castillo and other prominent members of Garcia's Apra party were investigated for receiving under-the-table payments in exchange for providing a Norwegian oil exploration firm with lucrative oil contracts.   The investigations into the Business Track company that did the tapping is widespread and ongoing.