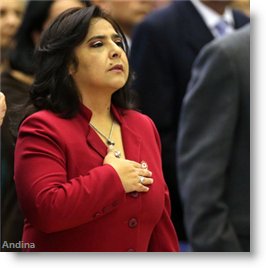 With President Ollanta Humala constitutionally barred from seeking re-election in 2016, and his wife, popular First Lady Nadine Heredia, barred by law to succeed her husband, Peru's ruling Gana Peru party is looking for a candidate.
One name being bandied about recently in the local media is the new Premier, Ana Jara, who has a strong support from Gana Peru's base.
Previously the Minister for Women and then head of the Labor Ministry, Jara is getting support from Gana Peru lawmakers as well.
"I think that she has the leadership in the party, and now that leadership is surely going to strengthen with her new role," Sergio Tejada, a lawmaker for Gana Peru, said, according to daily Gestion.
Another well-known party member, Congressman Daniel Abugattas, said that Jara is a "tremendous possibility" to run on Gana Peru's presidential ticket.
Tejada also added that Jara's candidacy could get a boost thanks to her close relationship with Humala and Heredia, who founded the party.
"She is a woman of the party, and I think she could have an important role," said Tejada.
If Jara does run, she would likely go up against stiff competition from Keiko Fujimori, the leader of the opposition party who lost to Humala in 2011, and from former President Alan Garcia.
Peruvian presidents hold five-year terms. They cannot run for consecutive terms in office, according to the constitution.