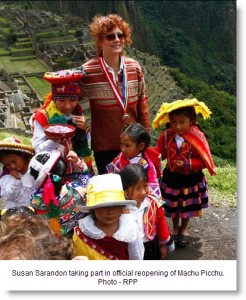 By Rick Vecchio
Susan Sarandon added a big dose of Hollywood sparkle last week to the reopening ceremony of Peru's crown jewel, Machu Picchu. Peru would be well served to apply such Tinsel Town treatment  to its other historic attractions.
Against the iconic backdrop of Inca Pachacuti's 15th century citadel, the Academy Award winning actress posed with Andean children in traditional dress. The Huayna Picchu peek loomed in the distance. The photo-op was a unmitigated success, announcing to the world that Peru's most popular tourist attraction was again open for business, two months after torrential rains and landslides wiped out train access to the mountaintop shrine.
A battalion of reporters and paparazzi managed to stay mostly on message, asking Sarandon repeatedly what she thought of Machu Picchu — as opposed to probing personal questions about her recent separation from Tim Robbins.
"I had no idea there were so many journalists at Machu Picchu," joked Sarandon, who was flanked by a U.S. Embassy bodyguard and Peruvian Tourism Minister Martín Pérez. "Oh, (this is) just for me? I though it was like this all the time. So I guess that means maybe I'll have to see Machu Picchu when you all go and then I'll have a better idea of what it's like."
Inviting Sarandon was a brilliant how-to in "top-down promotion" for Peru's tourism industry, wrote newspaper columnist Juan Paredes Castro in Sunday's El Comercio. He posed the question: "How many Susan Sarandons does Peru need?"
Paredes wasn't talking about recruiting more movie stars to sell Machu Picchu as one of the seven wonders of the world. If anything the mountain-ringed Inca sanctuary has been oversold to the point of peril.
He was referring to the larger, and ever-nagging question: When are Peru's central, regional and local governments going to invest in preserving and promoting the scores of lesser known, but nonetheless equally important, archaeological monuments as sustainable tourist destinations?
When will road and air routes to Kuelap, Choquequirao, Chavin de Huantar, Pativilca, Vilcashuaman and Caral — just to name a few — be established to offer suitable alternatives to take some of the pressure off the beleaguered Machu Picchu?
In spite of the dozens of historic attractions available in Cusco, tourism came to a screeching halt during the two-month closure of Machu Picchu. The normally bustling Inca capital city was transformed into a ghost town, with economic losses totaling $185 million, according to Tourism Minister Pérez.
As far as the communities in Cusco are concerned, the lesson learned is that the near total monopoly on access to Machu Picchu, held by the rail concessionaire PeruRail and Ferrocarril Transandino S.A., must, once and for all, be broken.
Pressure is building from rural communities and Cusco businesses to construct access roads to Machu Picchu from the northwest and south to open the whole region to tourism development with Machu Picchu as the centerpiece. Until now, the most intensive development of roads, hotels and restaurants has been centered along the narrow southeast corridor between the city of Cusco, up through the Sacred Valley and in Aguas Calientes, the tourist town located in the ravine below the ruins.
But Peru's Ministry of Ministry and its National Institute of Culture (INC) are pushing back, making it clear that they — as the gatekeepers to Machu Picchu — have no intention of letting the tourism floodgates fly wide open. To do so would put Machu Picchu at risk of losing its coveted status as a UNESCO World Heritage Site.
The sharp rise in visitors to Machu Picchu is the stuff of an Al Gore slide presentation. In 1980, Machu Picchu received 145,566 visitors. By 2000, that figure surpassed 420,000, and by 2008 it had doubled, reaching an all-time high of 858,211, according to INC figures. Last year, there was a slight decrease in the number of visitors — 815,268, representing a 6 percent dip — due to the world economic crisis, the non-profit Tourism Observatory of Peru said in a recent report.
Peru's government has worked hard to appease UNESCO's demands to lessen the impact of visitors to Machu Picchu. The Andean nation narrowly escaped being added to the list of endangered World Heritage sites following the record surge of visitors in 2008, when the number of tourists far outpaced carrying capacity for the site on several days.
The UNESCO-sponsored Management Plan for Machu Picchu called for no more than 917 visitors per day – and no more than 385 visitors at any one time – while the INC has recommended a maximum carrying capacity of 2,000 visitors. Peru's central government advocated in 2002 for 3,400, and the parties settled in 2008 on a daily limit of 2,500 visitors.
The deal was struck after the Peruvian government proposed a $132.5 million emergency plan to preserve the ruins and limit the flow of tourists, as well as take measure to prevent forest fires and landslides. The plan included, among others things, the installation of several miles of optic fiber from Aguas Calientes to the citadel to set up surveillance cameras, and the implementation of an entry ticket control program.
There is no doubt that with more investment in infrastructure, and careful planning, Peru could offer travelers an unparalleled South American vacation to rival any they could find in Mexico, India or Egypt, without ever stepping foot in Machu Picchu.
One area where that kind of investment and planning has started to take place is along Peru's northern coast.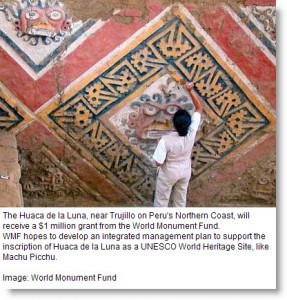 Near the city of Trujillo, archaeologists funded by the Backus and Wiese foundations and National Geographic Society, have made amazing discoveries of pre-hispanic ruins from the Moche Culture, which built pyramids used for religious rituals and sacrifices for more than 700 years until around 700 A.D.
The New York-based World Monument Fund (WMF) announced Monday that it is launching a sustainable development campaign for eight of its archaeological projects, including a $1 million grant for the Huaca de la Luna, or Temple of the Moon, a breath-taking Moche ritual and ceremonial complex.
"This is the biggest funding award we have made in Latin America to date," WMF President Bonnie Burnham said in a statement. "Huaca de la Luna is an important project and a good model for demonstrating how the disciplines of archaeology, conservation, and sustainable tourism development can all be integrated. World Monuments Fund has been working in Peru for more than 10 years and we think this is the right time to establish a more formal presence."
WMF said will also help develop an integrated management plan to support the inscription of Huaca de la Luna as a UNESCO World Heritage Site — the same official designation bestowed on Machu Picchu in 1983.
Peru's tourism minister, Peréz, should get to work now enlisting the help of Sandra Bullock to come to Peru and promote the Moche site.  She reportedly is preparing to divorce her philandering husband of four year, Jesse James, who is accused of having an 11-month affair with tattoo model Michelle "Bombshell" McGee.
Bullock should visit the Moche temple El Brujo, where the mummified remains of a woman decorated with tattoos of snakes and spiders was discovered in 2006. Dubbed "The Lady of Cao," the woman is believed to have been the first known female ruler of pre-Columbian Peru — a Cleopatra of South America — who plied captured enemies with hallucinogenic potions in preparation for their ritual sacrifice to the Gods.