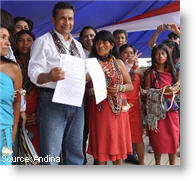 President Ollanta Humala enacted the prior consultation law on Tuesday during a ceremony in the north jungle town of Bagua.
The bill was unanimously approved by Congress and has been strongly supported by international and national rights organizations. It is intended to ensure that Peru's local laws are in compliance with the International Labour Organization's Convention 169.
The convention requires the State to consult indigenous people prior to adopting administrative and legislative measures, as well as investment projects and development plans, that could affect their communities.
"This law has the objective of [promoting] development for native peoples, of the Amazonian communities and the entire region," Humala said. "That is the spirit of this law."
"Today we have taken an important step in the construction of a nation, the construction of a republic," Humala added.
Ex-President Alan Garcia rejected a similar prior consultation bill during his recent term, expressing worries that the legislation would provide veto powers to indigenous communities that could deter mining and energy projects.
Humala and members of his Gana Peru party have said the new law will help address the more than 200 social conflicts in Peru that have impacted projects in the extractive industries.
The president's signing of the law in Bagua was a clear sign of the intention to address conflicts. Bagua, located in the northern jungle region of Amazonas, was the center of a June 2009 clash that led to the deaths of some 24 police officers and 10 native protesters.
The Bagua protesters were demanding, besides the right to prior consultation established by law, the repeal of several Executive decrees enacted in 2008 by Garcia to provide attractive investment conditions for the Free Trade Agreement signed with the United States.
NGO Cooperaccion said the prior consultation law is a major victory for indigenous people.
"This norm establishes a different relation between the State and the indigenous peoples, institutionalizing a culture of dialogue in decisions that affect them directly, contributing to a policy of prevention and transformation of the social conflicts from an intercultural focus and respecting their rights," Cooperaccion said.