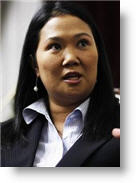 Keiko Fujimori, the daughter of jailed ex-President Alberto Fujimori, said Tuesday that she is increasingly considering requesting a pardon for her father, citing medical reports that the 73-year-old's health is deteriorating.
"There is a medical report that indicates that he is a cancer patient, has severe depression with ups and downs, that in an accident  he hit his head, and that he has several intestinal problems," said Keiko Fujimori, daily El Comercio reported.
She added that: "I think that the moment is coming to request a pardon."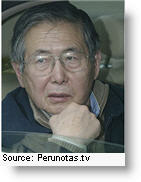 President Fujimori has aged considerably since his imprisonment, and is being treated for a cancerous growth on his tongue.     Keiko Fujimori said that she would request a humanitarian pardon for her father, "because it would be terrible for my father to die in prison."
President Humala has said he is willing to consider a pardon if requested, on humanitarian grounds.  Legal experts say that a pardon is not possible for prisoners serving sentences for human rights abuses but that other options could be considered, including house arrest.
Keiko Fujimori is the leader of the opposition Fuerzas 2011 party. A former congresswoman and presidential candidate, she narrowly lost to current President Ollanta Humala in this year's general elections.
Alberto Fujimori governed Peru from 1990 to 2000 before fleeing to Japan where he faxed his resignation amid a massive corruption scandal.
He remained in Japan until 2005 when he then flew to Chile with the plan to cross the border into Peru and campaign in the 2006 presidential elections. However, he was arrested shortly after his arrival in Santiago and later extradited to Peru to face corruption and human rights charges. In 2008, Fujimori was convicted and given a 25-year sentence on the human rights charges. He pleaded guilty to the corruption charges.