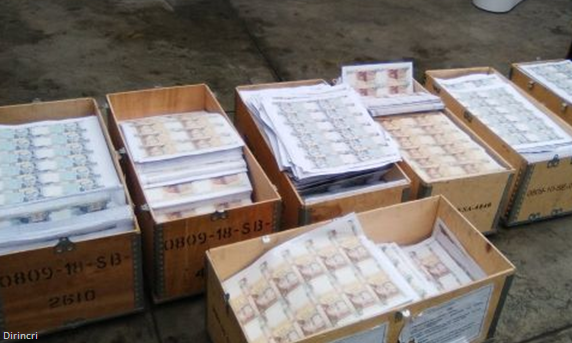 Four international gangs are printing counterfeit money in Lima, according to reports from Fraud Investigation police to daily Peru21.
One of the organizations is headed locally, police say, by Ñique Quispe, who is serving a prison sentence in Lima. He was wanted in the United States, and part of his gang was captured in December 2014 at a clandestine print shop in downtown Lima. Counterfeit bills confiscated during the arrest was for a total of $ 4.46 million in different denominations, plus 4 million euros.
Another gang is formed by a family known as Los Cobos, which was shipping counterfeit money to France, Spain and Italy.  The 'coordinator' of the operation was Wilfredo Cobos, now in prison, but his three brothers continue operating in Europe.
On the weekend, police broke up a more locally-focused operation when it confiscated 100 million soles in counterfeit bills in the south Lima district of Villa El Salvador.  The money was being printed on a large offset machine inside a private home, and three members of one family were arrested.    The bills were in denominations of 20, 50, 100 and 200 soles, and were to be distributed in Puno, Arequipa and another Andean towns during religious festivals that draw large crowds.
The Villa El Salvador operation has been the largest single confiscation this year. One of the men arrested was Luis Chaupin, who said he had learned to print counterfeit money at the prison in the central jungle area of Chanchamayo and perfected his craft at the Lima prison of Lurigancho.
The Central Reserve Bank, BCR, told Peru21 that this year alone, and prior to the huge find in Villa El Salvador, a total of 10.1 million soles in false bills and coins have been confiscated in the country, 90% of which was found in Lima.
According to the U.S. government, Peru is the world's top producer of counterfeit money. Over the past 10 years, some $105 million counterfeit notes have entered the U.S. from Peru.   Counterfeit producers in Peru have the printing "down to a fine art," according to U.S. intelligence experts.