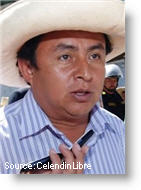 Public prosecutors in Peru have decided to open an investigation into the regional president of Cajamarca over declarations he made in a fiery speech on Tuesday calling for the population to oust President Ollanta Humala.
Newspaper La Republica reported that prosecutors are looking at whether Gregorio Santos, the regional president, is guilty of inciting rebellion.
Santos, originally a supporter of Humala now turned staunch critic, gave the speech to hundreds of anti-mining protesters in the main plaza of Cajamarca on Tuesday.
"What do we do when the President doesn't honor his commitments?" Santos asked. "We get rid of him!" the crowd yelled back.   Santos also said that cabinet chief Oscar Valdes represents no one, and called up a list of demands that included the return to the 1979 Constitution, the collection of fines from Telefonica, and a review of all contracts with multinational companies. 
During the speech, Santos also highlighted movements in neighboring Ecuador and Bolivia that led to the removal of presidents in those countries.
"Santos' discourse has become politicized, and has moved away from the environmental issues," said Carolina Trivelli, the minister of Social Development and Inclusion, during an Ideele Radio interview.
Protesters want Humala to cancel Newmont Mining's Minas Conga gold project due to environmental concerns. The government has backed the project, opting instead to try to resolve the dispute by hiring international consultants to make recommendations to improve Minas Conga's environmental impact study, a key study that had already been approved.
The project is on hold as the company reviews the recommended adjustments. Newmont is expected to announce soon whether it will make the changes and go forward with the development.
Santos, together with a number of other left-wing leaders who backed Humala during last year's presidential campaign, accuse the President of abandoning his promises and continuing the same economic model as the previous administrations.
On Wednesday, Santos tried to downplay his comments. "The only thing that I've done is to say to the country that the President has to honor his word because he swore on a bible for the principals of the Constitution of '79," Santos said. 
The underlying difference between the Constitutions of 1979, written by a constitutional assembly at the end of 11 years of military rule, and that of 1993 written in the first years of President AlbertoFujimori's administration, is the opening up or liberalization of the economy in which the state has stepped back from its controlling role and leaves most development to private investment.