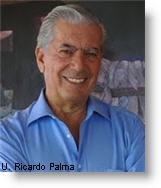 Peru's best known author, Mario Vargas Llosa, said that his next novel will have the Andean country's northern city of Piura as its scenario, Radio Programas reported.
Vargas Llosa, the 2010 recipient of the Nobel Prize in Literature, spent several years as a young boy in Piura.  Born March 28, 1936 in the southern city of Arequipa, he spent his first years with his family to Cochabamba, Bolivia. They later returned to Peru, to the desert coast city of Piura, where he stayed until moving to Lima in 1946.
In 2010, Vargas Llosa was the first Latin American to receive the Nobel award since 1990, when it was given to Octavio Paz of Mexico. The prize was given to Vargas Llosa "for his cartography of structures of power and his trenchant images of the individual's resistance, revolt, and defeat."
His prolific work includes plays, essays, novels that range from historical to detective mysteries, comedy and political thrillers, and also newspaper columns and articles, including the fortnightly Piedra de Toque (Touchstone) in El Pais of Madrid, which is published in Peru in La Republica daily. He is also a frequent speaker and visiting professor at universities in Europe and the United States.
Vargas Llosa returned to Piura Tuesday to receive a number of decorations from local universities and the regional government.
While in Piura, Vargas Llosa said that he "still can't provide details" about his upcoming novel.
"But part of the novel will be in the Piura of today and it deals with this accelerated transformation that is fortunately occurring in Peru and where Piura has been at the vanguard," the author said.
Vargas Llosa said he had remembered Piura as a "very small and almost invisible" town in the middle of Peru's coastal desert. Today, Piura is one of the main economic hubs in northern Peru, and a popular tourist attraction for its proximity to sandy, white beaches and warm Pacific waters.
"I've followed the evolution of Piura closely and I feel more comfortable imagining stories, characters, situations in a city like Piura than in others that I know much less," Vargas Llosa added.