By Paula Dupraz-Dobias ~
Special to Peruvian Times ~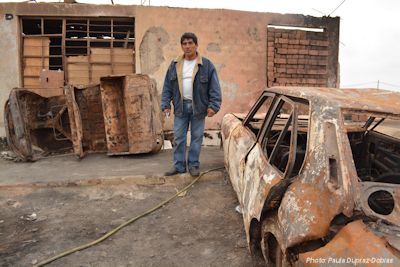 LIMA, PERU – One week after a fire left over 800 slum dwellers homeless, Callao regional head Felix Moreno met with distraught residents of the area, in a highly mediatized event, and oversaw the distribution of blankets and clothes.
Moreno said Wednesday morning that residents of the burnt-out area above the Rimac River, only a few hundreds meters from Lima airport, would receive a maximum of 3500 soles (USD 1270) per family as a "reconstruction bonus," intended as support to those who lost all their belongings.
The Oct. 30 fire was allegedly ignited by a stove in one of the many wooden homes in this densely inhabited area, to the west of the Avenida Faucett. The fire spread quickly through the settlement, as fire trucks were unable to access the neighborhood, due to its narrow, congested streets, according to residents.
One female resident said that the fire had burnt everything down within one hour, and that firemen arrived with limited quantities of water. This was the third, and worst, fire she had experienced in recent years in the settlement, she added.
Bulldozers plowed through what was left of the neighborhood Wednesday, as municipal workers delivered provisions to residents, on a former football pitch.  Buses refitted for medical services were parked a few meters away and a small public crèche welcomed about a dozen local children.
The provincial president identified three levels of financial assistance to victims of the fire. Families who lost everything would receive 3500 soles, while those suffering from building damage or who lost valuables will receive 2500 soles (USD 900) to purchase prefabricated homes. He said some 60 families will be resettled on cleared land parcels in Ventanilla, located to the north of Callao.
"It is a means to allow people to restart their lives," said Carlos Asiano, an official regional reporter at the distribution ceremony. But, he said, "Some people have been offered land on which to resettle, since it is not in the competency of the regional government to permit these people to stay in this marginal fringe of land, where one is not allowed to live."
Some residents complained about the offer saying that the Callao regional authorities had offered families in similar earlier situations 5,000 soles (USD 1800). Others suspected that donated clothing received from abroad had been swapped by local agencies for older, used items.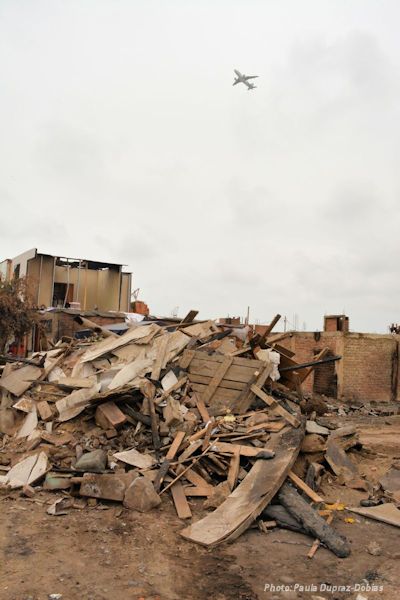 Some of the dozens of donated tents housing families stand on solid ground such as roads, plazas and sports fields. Others are perched directly on the charred ground.  A number of the synthetic tarps, measuring approximately seven square meters house up to 10 people.  One such tent, housing two families, was supplied with two mattresses and two blankets, positioned directly on the ash.
Jhony Solis, a father of two, explained that the fire took away his livelihood, which included a small bodega, a car and a motorized taxi. He expressed frustration with official support, saying while some 140 families were affected by the fire, the country's president, Ollanta Humala and the first lady, Nadine Heredia, had not shown any sympathy for their plight.
"I cannot do anything, I cannot work. My hands are tied. My children cannot go to school, as their notebooks , uniforms and shoes were burned in the fire," he said. "There is no place to wash their uniforms."
The Callao settlement, which began over twenty years ago, was established on top of an old garbage dump along the edge of the river. Garbage continues to accumulate at the edge of the settlement, where its residents deposit waste.
Since the 1960s, it is estimated that Lima's population has quadrupled, according to the Rockefeller Foundation.  Many people were drawn to the capital for economic, as well as political reasons, as during the 1980s and early 1990s, creating an increase of informal settlements, such as the ones near the Jorge Chavez International  Airport. Approximately 35 percent of Lima's inhabitants live in these slums, or pueblos jovenes.
In 2012, a government plan to expand the international airport announced the clearing of another nearby settlement, El Ayllu, set next to agricultural lands.  Some 250 families were pressed to relocate to government-owned land, in the more urban area of Santa Rosa.