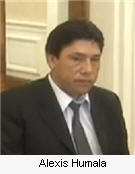 President-elect Ollanta Humala's Gana Peru party denied Thursday that the incoming president's brother has been meeting with Russian authorities and businesses on behalf of  the future head of state.
In a statement, Gana Peru said that Alexis Humala is a member of Gana Peru's National Executive Committee but that he had not been sent by Ollanta Humala as a representative to any country.
Gana Peru said that any talks Alexis Humala held in Russia were on a personal level. The president-elect's brother reportedly held talks to discuss negotiating projects with Russian gas company Gazprom, and for Russia to regain fishing rights in Peruvian waters.
Humala, who returned from the United States on Thursday, faced criticism when local media reported on the news.
Javier Diez Canseco, elected to Congress as a member of the Gana Peru alliance, said that the issue needed to be cleared up. "It seems to me that it is a topic that needs to be explained, even more so because of the way it has been picked up by the media," Diez Canseco told Ideeleradio.
Writing in daily La Republica, Columnist Augusto Alvarez Rodrich said that Humala owed an "urgent explanation" to the country.
"For a politician like Humala, who during his campaign significantly strengthened his candidacy thanks to his anti-corruption proposals, it would be regrettable that, so prematurely, he is using his term like the governments he criticized," said Rodrich.
Humala, a leftist ex-army officer, will be sworn in on July 28 for a five year term.