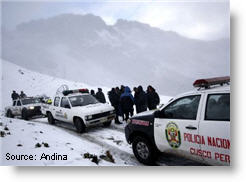 A helicopter carrying 14 people, including 12 foreigners, from the jungle region of Madre de Dios to the Andean city of Cusco has disappeared, according to the National Police.
Helicusco, the company that owns the helicopter, confirmed Thursday in a statement that it began a search operation once communication was lost with the helicopter. However, it said that the air search operation has been held back by bad weather, while the ground search is continuing.
Police said they have sent a team to the area to locate the helicopter and the passengers, and that a high mountain rescue team would also be heading for the Hualla Hualla area in the Vilcanota range, which lies above 4,000 masl.  Snow and clouds were expected to lift today, which will make the search more effective. 
An early report by state-news agency TV Peru said the passengers were killed during a crash, but police later said that has not been confirmed.
Reports also initially said that the foreign passengers, which include several South Koreans as well as a Czech, a Dutchman and a Swede, were tourists, but it has since been confirmed that they are all employees of a South Korean firm that was doing exploration work in the area, according to newspaper El Comercio.