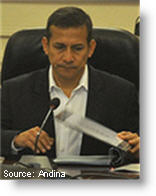 President Ollanta Humala, facing a deepening rift in his Congressional party, said the resignations of a number of lawmakers this week are an opportunity to strengthen the bloc.
On Monday, three key left-wing legislators from Humala's Gana Peru party – Javier Diez Canseco, Veronika Mendoza, and Rosa Mavila – resigned due to a brewing dispute over the administration's handling of opposition to mining projects and its shift towards the political center-right.
On Thursday, Congressman Ruben Coa, who had called for Premier Oscar Valdes to be fired, also resigned from Gana Peru.
Humala downplayed the resignations. "Political phenomena of this nature happens in very party," Humala told reporters Thursday. "What is important is that this is an opportunity to strengthen the bloc," he added.
Teofilo Gamarra, a congressman for Gana Peru, said the ruling party remains "solid." He said in televised statements that the resignations will help the party to settle disputes internally rather than through the media.
Gana Peru now has 42 seats in the 130-member parliament, down from its original 47. The second largest political group in the Congress is the Fujimori party, Fuerza 2011, with 37 seats, followed by the Peru Posible-Accion Popular alliance with 21 seats.  Although Gana Peru is still the largest group it does not have a majority and relies on the support of Peru Posible and smaller parties to push through legislation.