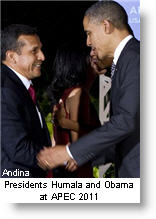 Peru's President Ollanta Humala on Wednesday congratulated U.S. President Barack Obama, who was reelected Tuesday evening for another four year term.
Humala said in his note to Obama that he is confident Peru and the United States will continue to strengthen ties.
"In this new period of government that will be inaugurated on January 20, I'm certain that our countries will continue to strengthen the excellent cooperation, dialogue and understanding that we have built," Humala said, according to state news agency Andina.
Obama won a second term in office after defeating Republican opponent Mitt Romney by taking more than 300 of the 538 electoral votes up for grabs. Obama also won the popular vote, while the Democrats strengthened their control over the U.S. Senate and Republicans held on to the House of Representatives.
Before the election, experts had agreed that the outcome of the election would not result in any significant shift in relations between the U.S. and Latin America.
Latin America in general was hardly mentioned during the presidential campaign when the candidates discussed plans for U.S. foreign policy.
Garcia Belaunde, foreign affairs minister during ex-President Alan Garcia's second administration,  had not expected any major changes if Mitt Romney were to have won the election.
"There is a clear policy from the United States with Latin America and that is continuity," state news agency Andina reported Garcia Belaunde as saying.
The United States is an important trade partner and source of foreign direct investment in Peru. A bilateral free trade agreement is in place and both countries are also in talks with other nations for a multilateral free trade deal in the Asia-Pacific region, known as the Tran-Pacific Partnership.