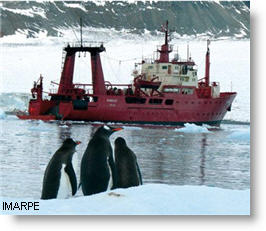 Peru's science research ship, Humboldt, left Callao en route to Antarctica Monday with a full crew and 23 scientists on board from the Instituto del Mar (Imarpe) and the Navy's hydrographic and navigation office. 
This expedition, Antar XXI, is to operate from the Machu Picchu Base on King George Island in Admiralty Bay, where Peru has had a research base since 1989. 
The expedition is to take approximately 80 days —scheduled to return to Callao at the end of March— and will continue the scientific research done in earlier expeditions, on fishing resources, climate change, animal life in freezing temperatures, and a broad range of geological, biological, hydrographic, and geophysical research.
The scientists will operate from the ship and at the Machu Picchu Base, Peru's research base on King George Island in Admiralty Bay.
This will be ship's 21st Antarctic voyage. Built in 1978 for the Instituto del Mar, the Humboldt sailed frequently to Antarctica and on research voyages in the Pacific until 2007, when it was de-commissioned for repairs and renovation at the SIMA shipyards in Callao. 
According to the Institute's president, German Vasquez-Solis, an S/.18 million investment in the renovation includes new navigation equipment, more comfortable quarters and environmentally appropriate waste water treatment facilities, as well as new laboratory equipment.