La República daily distributed DVD copies with its newspaper on April 5 of a documentary film that retraces the murder 19 years ago of a university professor and nine students by a military death squad.
The distribution of La Cantuta – En la boca del Diablo (In the Devil's Jaws) was timed to remember President Alberto Fujimori's closing of Congress on April 5, 1992, when military and police intelligence were also brought under the national intelligence wing led by Vladimiro Montesinos.
It's timing, however, is also a reminder of presidential candidate Keiko Fujimori's desire to see her father absolved of the 25-year sentence he is currently serving for human rights abuses, and the film includes clips from the young candidate's campaigns.
The film, directed by Amanda Gonzales, who also wrote the script, was a winner of the documentary projects award of the national cinema council, Conacine, and was chosen for the Berlinale Talent Campus in 2010 and funded by Germany's Development Service and Civil Peace Service programs.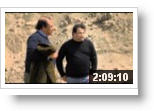 The documentary retraces the steps with Peru's eminent journalist Edmundo Cruz of the investigation that he and other journalists conducted into the murder of the university professor and students, arrested during a military raid at 2 a.m. in the dorms at the teacher training college of Enrique Guzmán y Valle, better known as La Cantuta. The raid was conducted the night after a 500kg car bomb killed more than 30 people on Calle Tarata in upscale Miraflores. The professor and students were never seen alive again.  The remains of only five of the victims were ever found, among the barren hills on the road to Cieneguilla.  The evidence led to the eventual conviction, in 2009, of members of the Grupo Colina death squad and of President Alberto Fujimori for human rights abuse crimes.