The head of Peru's anti-drug agency, Ricardo Soberon, said Wednesday that he will not resign from his post following heavy criticism led by the country's largest newspaper and opponents of President Ollanta Humala.
"No, I'm not going to resign. I have the support of cabinet chief [Salomon Lerner Ghitis], and once we have finished [our study], we are going to explain the guidelines of our management," Soberon said during an interview with Ideeleradio.
Soberon was appointed director of the agency, known as Devida, in early August following Humala's inauguration.
His appointment has been strongly criticized by some local media, including dailyEl Comercio, the political opposition and some analysts of Peru's drug trade, for his past ties with coca growers.
Soberon denied that he has had official connections to Eduardo Ticeran, the leader of a coca growing union who was recently arrested in Huanuco and flown to Lima. The district attorney accuses Ticeran of leading sales in the Monzon Valley to drug traffickers and of having connections to the Sendero Luminoso leader in the Huallaga, Florindo Flores.
Ticeran had previously saluted Soberon's appointment and said they were personal friends, daily Peru.21 reported.
"I have 20 years working on drug policy. I deny there is a friendship with [Eduardo Ticeran]," Soberon said.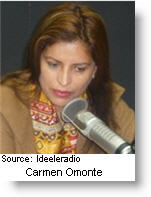 Contrary to the campaign in Lima against Soberon, Carmen Omonte, a member of Congress for Huanuco, considers that Soberon's relationship to coca growers is a point in favor, because it will help build a more realistic policy to solve the illegal drug problem.
"Knowing [the coca grower] leaders, knowing their situation and problems from having worked closely with them on certain aspects, is going to pave the way for a process of agreements, negotiation and a more realistic solution," Omonte said on Ideele Radio.  "The fight against the drug trade is a battle the country has been involved in for a long time, but the results have not been positive.  I believe that the Executive and the Council of Ministers have chosen Soberon precisely with a view to finding a point of agreement."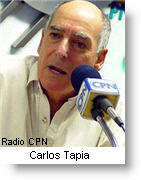 Carlos Tapia, chief of the advisory cabinet to the Presidency of the Council of Ministers, confirmed that the government plans a new strategy in the anti-narcotics program, which will include agreed-on or forced eradication of illegal crops.  Under the previous administrations, the government has concentrated on forced eradication.
"We are planning to produce a change in the strategy because the previous strategy has not reduced coca cultivation and instead the export of cocaine has increased exponentially. So, to sustain a strategy that has led us to failure is not an intelligent attitude. We are planning a new strategy that will combine eradication —which can be forced or agreed upon— with alternative development and State presence in the area," Tapia said.
On Soberon's appointment, Tapia said, "I have rarely met anyone so well qualified for the job."
Peru is a major grower of coca, along with Colombia and Bolivia. The leaf, which is used to make cocaine, is primarily produced in Peru's Upper Huallaga Valley in Huanuco region and the central region known as the Apurimac and Ene River Valley, or VRAE for its Spanish acronym.