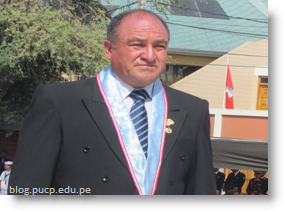 Police Tuesday captured a fugitive mayor of one of Peru's largest cities in northern Peru who was wanted for corruption, daily Peru.21 reported.
Roberto Torres, the mayor of Chiclayo, was arrested by police after going into hiding eight days ago. Late Tuesday, the Interior Minister, Daniel Urresti, said in Chiclayo that Torres had attempted to bribe the police who found him outside the city, in the town of Mocupe.
Torres, who has been mayor of the capital of Peru's Lambayeque region since 2007, went into hiding after a judge ordered his arrest September 30 on charges of money laundering, illicit gains, conspiracy, and corruption of civil servants.  His youngest daughter, Nathalie Torres, is also allegedly involved in the crimes.
Torres, who had planned to run for re-election in Chiclayo in Sunday's nationwide elections, had already been investigated in 2012 for misappropriation of funds.
This year, he was being investigated for leading a criminal organization known as "Los Limpios de la Corrupcion," or Clean of Corruption, which allegedly schemed to have public works projects awarded to companies linked to the mayor and his allies.  According to the state attorney, Torres and some 20 other people in his organization  have moved or amassed close to $100 million in vehicles, real estate, jewelry and cash.    Torres himself received 10% of all municipal contracts and projects.
Torres was elected in 2007 and re-elected in 2011 under the party name of Clean Hands.
Torres is just one of many officials in Peru's municipalities and regional governments that is under investigation for corruption.
The corruption scandals have rocked governments outside of Lima, where there is little oversight of how government funds are spent.
Peru's Interior Ministry had said at one point that 22 of the 25 regional presidents in Peru were under investigation for corruption. Some, including the presidents of Ancash and Cajamarca, have been arrested and are awaiting trial in prison.