Former president Alejandro Toledo has increased his lead for a second shot at Peru's president just two months before the election, according to a recent poll for daily Peru.21 by Datum Internacional.
The national poll shows Toledo with 30 percent support, opening up a 10 point lead on Congresswoman Keiko Fujimori with 20 percent.
The former mayor of Lima, Luis Castañeda, has a 19 percent approval rate as a result of his support in the Peruvian capital – his stronghold – slipping to Toledo.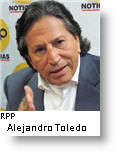 The head of Peru's Nationalist Party, Ollanta Humala, who in the 2006 presidential race garnered 47% of the vote in the run-off against President Garcia, has remained steady in fourth place with 10 percent support, while ex-Prime Minister Pedro Pablo Kuczynski continues well back with 5 percent.
The previous Datum poll published on January 17 had Toledo at 27 percent, Castañeda in second at 22 percent and Fujimori at 20 percent. Humala was at 10 percent and Kuczynski had 4 percent.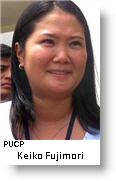 Peruvians go to the polls to elect a new president on April 10. If no candidate receives at least 50 percent plus one vote, a run-off between the top two candidates will be held.  The new president is traditionally sworn in on July 28, Independence Day.
The poll was taken between Jan. 28 andFeb. 1 and has a margin of error of +/- 2.8 percent.