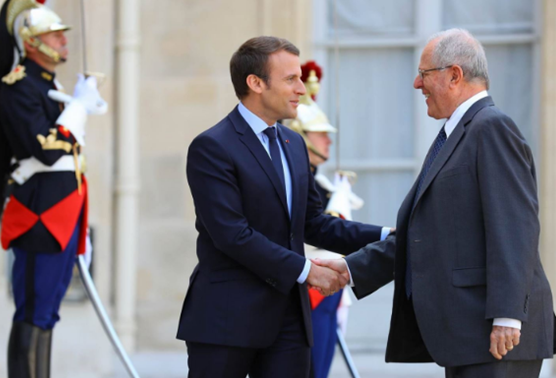 President Pedro Pablo Kuczynski and his French counterpart, Emmanuel Macron, reaffirmed their commitment to the Paris Agreement on Wednesday, standing on the steps of the Elysee Palace after a meeting that included discussion on climate change and on democracy in Latin America, particularly the situation in Venezuela.
Reconstruction after the floods in Peru earlier this year is one of the key issues on President Kuczynski's agenda during his visit to France and Spain.
Kuczynski is the first Latin American head of state that Macron has met since his presidential inauguration less than a month ago, on May 14.
French investors look to Peru
A couple of French investment banks are interested in financing small and medium businesses in Peru, according to Finance minister Alfredo Thorne.
Accompanying President Pablo Kuczynski on an official visit to France, Thorne met with executives of 11 French companies while in Paris this week. He also spoke at the OECD Forum 2017, and was a panelist at the fourth Steering Group meeting on Latin America and the Carribean. Peru aims to become a member of the Organisation for Economic Co-operation and Development, OECD, "within a reasonable period of time."