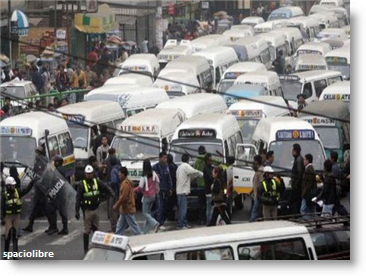 Peru's imposing capital of Lima has the worst air pollution of all Latin American cities, according to a recent study by the World Health Organization.
The WHO report, which analyses 1,600 cities in 91 countries, found that only 12 percent of the world's urban population breathes clean air.
The director of public health and the environment at the WHO, Maria Neira, said that the situation has deteriorated in almost all cities that were part of the study, especially in developing countries, according to daily Peru.21.
The study looked at the level of fine particles, known as PM 2.5, that are in the air and that are harmful to human health.
Health experts measure air quality by qualifying air as clean if there are less than 10 micrograms of fine particles per square meter. If there are more, the air is considered contaminated and harmful to health.
In Lima, a city of nine million people and nestled between the Andes mountains to the east and the Pacific Ocean to the west, the average level of micrograms is 38, according to the WHO.
According to CIES, a consortium of 48 economic and social research institutions in Peru, the high pollution rate has caused over 5000 deaths between 2007 and 2011, 80% of which were  directly attributable to pollution from public transport. 
Although the WHO report does also indicate that pollution levels have improved in Lima in recent years, it still shows that levels are extremely high. According to the report, the most polluted parts of the city are in the northern cone (Ventanilla, Puente Piedra, San Martín de Porres), where the level of pollution reaches 58 micrograms, while in eastern Lima the level is 36 and in the south it is 29.
Last year, the National Statistics Institute, INEI, reported that the most polluted districts in Lima were Ate and El Agustino in the east. Other districts with bad air pollution included Villa Maria del Triunfo, Santa Anita, Jesus Maria and, surprisingly, San Borja.
According to Luis Tagle, executive coordinator of the Clean Air Initiative committee for Lima and Callao, the principal causes of the city's pollution are poor fuel quality and the vehicle fleet on the road that is more than 20 years old.
"Systems like the Metropolitano, which uses gas, or the Lima Metro [electric] have somewhat reduced pollution… but not entirely," Tagle told La Republica.
Although used vehicles can no longer be imported, and the current city government has succeeded in removing many of the older public transport vehicles from the roads, there has been a dramatic increase in the number of private vehicles, creating heavy traffic congestion not only in the industrial and heavily populated areas but throughout the city.