By Tony Darrington
We had a chance to see the Ballet Folklorico de Mexico performance, just 10 days after the Rasu Ñiti debut in Lima, at the Palacio de Bellas Artes in Mexico City on May 29. That building is, architecturally speaking, as artistically luscious (below) – marble plated, art deco – as the Lima Museo de la Nación is functionally puritan: exposed concrete and harsh rectangular lines.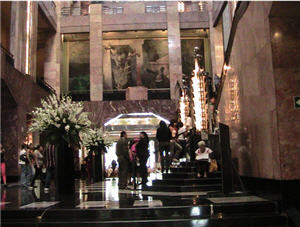 The "Bel-ar" (Belles Arts), as our French-speaking friends would have it, was built as an extravagant contrast to the economic greyness of the 1930's depression and as a statement that Mexico was emerging from the chaos of the Revolution.
The Ballet Folklórico de Mexico takes familiar – sometimes well-known – mariachi and ranchero music and astounds the audience with lavish, colorful choreography: more Moulin Rouge than Covent Garden.  Photos by PG/SM on May 29, 2011.