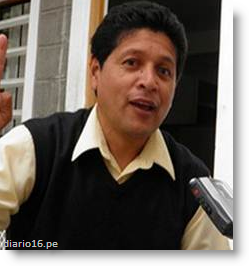 A Catholic priest in Ancash region, who was previously the mayor of an Andean village, says that he has been in hiding over the past several years due to death threats, daily Peru.21 reported.
Luis Antonio Palomino, who put aside his duties as a priest to be mayor of the district of Quillo in Yungay province, from 2007 to 2010, said during a public meeting with authorities from Lima this week that he has been living 'under  the radar' to avoid threats.
Palomino told the authorities that he was roughed up in 2010 by a mob allegedly on orders of Elvis Camarena, currently manager of the regional government's huge Chinecas energy and irrigation project. Palomino alleged that three hit men were then later, in 2012, sent to find him and kill him at a church in the coastal city of Chimbote.
"From that moment I've been living in hiding," Palomino said. "I get threatening messages, each night I may sleep in a different place."
Palomino was the first of several people who gave testimony this week, in a public hearing, to members of a special congressional commission sent to Ancash to gather information on a wave of politically-related killings in the region.  The deaths, which include the recent assassination of political candidate Ezequiel Nolasco, are allegedly linked to a power structure led by regional president Cesar Alvarez.   The Finance Ministry has temporarily frozen both Alvarez' and the regional government's bank accounts, and yesterday announced the Chinecas project accounts are also temporarily blocked, for investigation.
The Catholic priest said that he was targeted for entering politics and trying to turn around the impoverished town of Quillo, which is located in Yungay province. He said he succeeded in helping the town change for the better but could not remain after he completed his term because of the threats.
He said he never denounced the threats because "good police" had warned him that "the [police] colonel plays crooked…"  He added, "If you believe that this life is worth anything, protect it. If not, thanks very much, " he said.