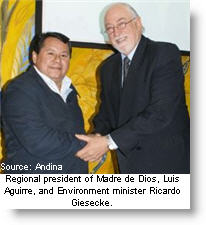 Environment Minister Ricardo Giesecke and the regional president of Madre de Dios region, Luis Aguirre Pastor, signed an agreement  last Friday to protect some 85,000 km2 of rainforest that is under threat from deforestation and illegal mining.
The agreement, signed as the government began a full-scale operation to bring illegal mining under control, seeks to strengthen environmental management and technical assistance for strategic management of natural resources.
"We will strengthen the presence of Minam (the Environment Ministry) in Madre de Dios and we will provide technical assistance in situ to the regional government," state news agency Andina reported Giesecke as saying.
In an earlier meeting with foreign press, Giesecke said it would be difficult to fully control illegal mining but that one solution would be to contain it within a corridor, limiting its negative impact. Additional solutions would include reforestation programs and the use of modern methods that do not require mercury or other contaminants to obtain the gold. 
Aguirre Pastor said he was confident the assistance from the ministry will help control environmental problems and crimes.
Madre de Dios, located in south-eastern Peru, is considered one of the world's most biodiverse areas and an important eco-tourism attraction.
However, in recent years, surging gold prices have accelerated environmental destruction by illegal miners, many of whom come from poverty-ridden areas in the southern highlands. In addition to tax evasion and environmental destruction, informal mining has also led to numerous social problems, including underage prostitution and drugs and alcohol.
"As the regional government, nothing will stop us in the fight against illegal mining because we want to be recognized as the capital of biodiversity and not the capital of informal and illegal activities," said Aguirre Pastor.