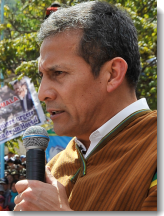 President Ollanta Humala said Tuesday that he is confident that Peru's economy remains "solid" and that the Andean country is "moving forward" despite signs of a slowdown.
"Our economy is solid. We are conscious that the situation in the global environment is complicated and that Peru and Latin America are not exempt from the crises in the world," state news agency Andina reported Humala as saying. "[But], we are moving forward."
Peru's economic expansion, one of the fastest during the past decade, has fallen back so far this year, expanding by 5.4 percent in the first five months of the year.
At the start of the year, many economists had expected that growth would be similar to 2012, when Peru's GDP gained 6.3 percent. However, economists are now lowering their forecasts, with some projecting that Peru's GDP will grow by less than 5 percent in 2013. The latest survey from the Central Bank puts the median estimate at just below 6 percent growth for 2013.
The cooling of Peru's economy is mainly due to slowing growth out of China, which fueled a commodities boom during the past decade that benefited the mineral-rich Andean nation. President Humala said in his July 28 speech to Congress that it is likely that commodity boom is now coming to an end.
After years of strong growth, some political analysts fear that a sudden slowdown could also have political repercussions. Indeed, Humala's approval rating has slumped to its lowest point since he took office largely due to two factors: several political controversies and the economy.