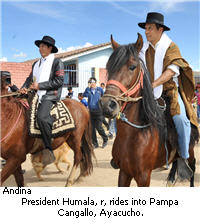 President Ollanta Humala announced Wednesday that Peru's government will spend more tan 3.4 billion soles ($1.3 billion) in the country's southern Andean region of Ayacucho.
The funds will be used to tackle poverty and development in Ayacucho, Humala said, according to state news agency Andina.
Ayacucho, the area hardest hit by both the Shining Path and the military during the 20 years of internal conflict, is one of Peru's poorest regions, with a poverty rate above 45 percent last year, according to recent data from the National Statistics Institute, INEI.
Humala said that the funds will be used for social development and infrastructure projects. More tan 2 billion soles will be used to build and maintain roads in the region, Peru's president said.
Another 228 million soles will be spent on housing, 80 million soles on electricity works, 80 million soles on security and 350 million soles on agricultural programs.
"All of this money will contribute to the development of Ayacucho, it will strengthen social development and the fight against chronic child malnutrition," Humala said.
Humala was in Ayacucho to hold a cabinet meeting. Since taking office in 2011, Humala has periodically held cabinet meetings outside of Lima in order to promote decentralization.
Humala is aiming to lower the poverty rate in Peru to about 15 percent by the time his term ends in 2016, by promoting economic growth and widening social programs. In 2012, Peru's poverty rate declined to 25.8 percent from 27.8 percent in 2011.