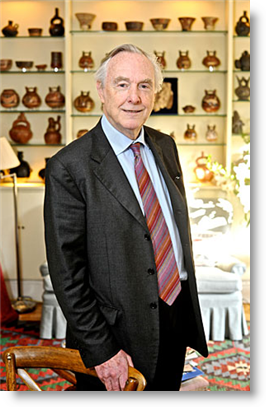 British author and explorer John Hemming will be giving a series of talks in Lima next week, beginning on Monday at the Teatro Britanico.
Hemming is perhaps most known in Peru for his best-selling 'Conquest of the Incas', a must-read that Mario Vargas Llosa has described as an "extraordinary book."  He has also published 'Monuments of the Incas' which is richly illustrated by American photographer Edward Ranney.
But Hemming's expertise also encompasses Brazil and the Amazon, with a string of published titles — 'Tribes of the Amazon', 'The Search for El Dorado', 'Tree of Rivers: the Story of the Amazon', and 'Red Gold: The Conquest of the Brazilian Indians.'
His most recent book,  'Naturalists in Paradise: Wallace, Bates and Spruce in the Amazon' covers the story of three young Englishmen who discovered the nature of the continent's rainforest in the mid-nineteenth century.
Hemming's talk — Two English Friends of Peru: Clements Markham and Richard Spruce — focuses on Sir Clements Markham, a geographer with a deep interest in Peru who made a point of learning Quechua, and Spruce, an outstanding botanist who had been collecting flora in northern Peru for two years when Markham asked him to join the mission to collect trees and seeds of the Cinchona tree, whose quinine indigenous tribes used as a cure against malaria.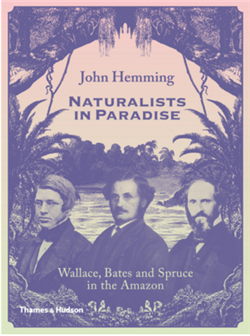 "It is an excellent story, told by a maestro," says former Peruvian Times editor Nick Asheshov, whom Hemming visited last week in the Sacred Valley, Cusco.
According to Helen Brown's review in The Telegraph, "'Naturalists in Paradise' looks at a more innocent and romantic age of exploration, before the rubber trade took off. Drawing heavily on their letters and journals, Hemming charts the expeditions of Alfred Russel Wallace, widely acknowledged to be the co-discoverer of evolution with Charles Darwin; Henry Bates, who discovered protective mimicry among insects; and Richard Spruce, who transported the quinine-bearing cinchona tree to India, saving many lives from malaria."
Hemming not only relied on the naturalists' journals but has travelled in their steps and extensively throughout the Amazon.
A director of the Royal Geographical Society for 21 years, Hemming has been awarded the order of El Sol del Peru as well as the Grand Cross of the Order of Merit.
Hemming is in the Amazon this week to lecture on a river cruise, in the surroundings that so enraptured Spruce and the other naturalists, Wallace and Bates, more than 150 years ago.
Looking at the Amazon in today's context, and to the vast discoveries that these naturalists made, Hemming concludes that "We have no moral right to destroy and burn the ecosystem that has the greatest number of species on the planet – and which absorbs so much carbon."
Two English Friends of Peru: Clements Markham and Richard Spruce
Monday, February 15, 7:30pm — Teatro Británico, Jr. Bellavista 531, Miraflores.  Admittance free.
Tuesday, February 16, 12 noon —Centro Cultural Inca Garcilaso, Jr. Ucayali 391, Lima 1. Admittance free.