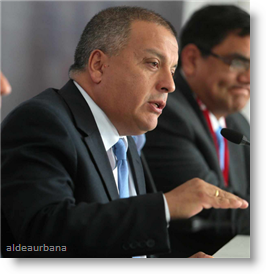 The Humala administration seeks to end its term in 2016 with three-fourths of the country's rural families having access to running water and sewage, according to Housing Minister Milton Von Hesse, reported daily Gestion.
Von Hesse said that when President Ollanta Humala took office in July 2011, about one third of rural families in Peru had access to the public services. Today, about two-thirds of the rural communities have running water and sewage, he said.
"In these three years of government, the most significant increase has been in the water and sewage coverage in rural areas," he said. "This government found that one in three families had the services and now two of three families have it, which means that it has doubled."
Von Hesse said that the main challenge in cities is to ensure that the actual coverage of water and sewage is maintained, requiring the government to invest in maintenance of pipelines and other infrastructure.
"This is a serious problem that we should understand as a country," he said. "The model of municipal management for the entities that provide sewage services has collapsed, which means it is necessary to have greater private participation."
The Housing Ministry estimates that Peru requires 53.5 billion soles ($18.4 billion) to provide universal water and sewage coverage. The minister said the state does not have those funds.
"To close this gap it is necessary to have a greater participation from the private sector," he said, while also ruling out that state-owned water company Sedapal, which provides water for the Lima region, is to be privatized. The government is, however, planning to open up Sedapal to private interests by offering to sell a minority stake in the company.  In August this year, Von Hesse said the stake could be as much as 49 percent.
Peru's robust economic growth during the past decade has sharply reduced poverty, but about 24 percent of the country's 30 million people still live under the poverty line. The highest rate of poverty is in the rural Andes and Amazonia.