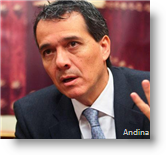 Finance Minister Alonso Segura said that Peru's weakening sol currency will help exporters offset the lower international demand for their products in a sluggish global economy, daily Gestion reported.
"The depreciation, as long as it is gradual, has positive effects because it helps the exporter, in a context in which external demand has declined and other currencies are also depreciating," said Segura, who was appointed minister earlier this year.
Segura said that the Central Bank has been doing good work in terms of managing the volatility of the Peruvian currency against the US dollar.
The Central Bank was selling dollars on the spot market last week and in past sessions in order to slow down the sol's depreciation.
"This [reduction of volatility] is what is really important, to prevent the exchange rate from being dunked," he said.
The sol had appreciated against the dollar for many years, but it has been weakening over the past year due to the the US Federal Reserve's decision to start tapering its multi-billion dollar bond buying program known as quantitative easing.
At the end of Friday, the sol was trading at 2.928 per dollar, which is 4.57% weaker than the start of this year.