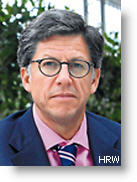 Leading human rights organization Human Rights Watch is calling on Peruvian legislators to reject a proposed bill that would criminalize the denial of terrorist crimes.
Last year, President Ollanta Humala submitted the bill, which has since been modified by two congressional committees. The bill was proposed following concerns in Peru that former Shining Path insurgents were reorganizing under a new political group called Movadef (Movement for Amnesty and Fundamental Rights).
Movadef, which has been working in universities to seek support among young students, denies that the Shining Path was a terrorist group and as a result seeks an amnesty for everyone who was jailed for crimes committed during Peru's internal conflict in the 1980s and 1990s. This would include Shining Path founder, Abimael Guzman, as well as military officers in prison for human rights violations.
Humala's original bill would have created a new article in Peru's criminal code that would seek sentences of four to eight years in prison for approving, justifying, denying or minimizing terrorist acts. The revised version would create a penalty of six to 12 years in jail, but would limit the offense to denying terrorist acts. The sentence could be increased to 15 years if the denial is made through social media or information technologies, according to Human Rights Watch.
The bill has yet to be approved by Congress.
In a statement, Human Rights Watch said that the law would be incompatible with freedom of expression.
"Objectionable speech is best met with contrary speech, not censorship," José Miguel Vivanco, the Americas director at Human Rights Watch, based in Washington, D.C., said in the statement. "The vague terms in this law would threaten free speech and impose a chilling effect on legitimate expression, such as criticizing a judicial ruling about terrorist acts or publishing an interview with a person convicted of terrorism."
Human Rights Watch said that the legislation also risks being counterproductive.
"In practice, this law could have the opposite effect of its intention in Peru," Vivanco said. "Draconian bans may turn bigots into victims, driving them underground and creating a more attractive home for those who are drawn to such groups."