Peru's military has begun preparations in an attempt to prevent attacks by remnants of the Shining Path insurgency in the coca growing Apurimac and Ene river valleys (VRAE) during the April 10 presidential election.
"They aren't going to become a threat," the chief of the Armed Forces Joint Command, Luis Howell, said. "We are working ahead of time so there are no incidents in the election process, particularly in the VRAE."
"I guarantee you that this process is going to be managed in the best way and with the support from the Armed Forces and National Police," state news agency Andina reported Howell as saying.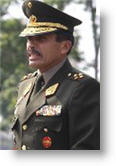 The VRAE includes 31 districts in the departments of Ayacucho, Cuzco, Huancavelica and Junin. It is one of Peru's top coca growing regions along with Huanuco's Upper Huallaga Valley.
Splinter groups of the Shining Path – although without the ideology of the bloody Maoist rebel group that reached its peak in the 1980s and early 1990s – operate in both regions with drug traffickers. The groups are blamed for deadly attacks on Peruvian security officers and personnel involved in eradicating coca crops.
The latest attack came on Wednesday and resulted in one soldier injured when a military base came under fire in the VRAE.  Soldiers at a base in Ayacucho's Huanta province were attacked at 3:30 a.m. on Wednesday by the splinter group, daily La Republica reported.