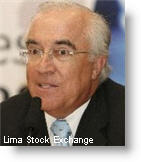 Peruvian business leaders and top government officials began a road show in Asia this week aimed at attracting companies to invest in Peru.
"The event started well. We have a good presence of Asian investors in the room. The delegation we have brought from Peru is an important delegation presided by the Economy minister, (Luis Miguel Castilla), and other authorities," Roberto Hoyle, president of the Lima Stock Exchange, told daily El Comercio from Hong Kong.
The road show is being organized by InPeru, an organization of private business leaders formed earlier this year to promote Peru abroad. The organization includes the Lima Stock Exchange, and the banking, insurance and pension fund institutions, and is strongly backed by the Ministries of Finance and of Trade.
The group will also hold meetings with investors in Shanghai on Wednesday and in Singapore on Friday.
Earlier this year, InPeru led  a major road show to London, where some Peruvian companies are now listed on the London Stock Exchange. This was followed by promotions in Japan and South Korea.  The group is also planning to meet with investors in the United States later this year.
Peru's fast-growing economy has attracted investors from all over the world.  Despite the impact from the economic crisis in Europe and the United States, its gross domestic product is forecast to grow by about 6 percent in 2012, making it one of the fastest growing economies in Latin America.