But visitors still able to reach the Inca Citadel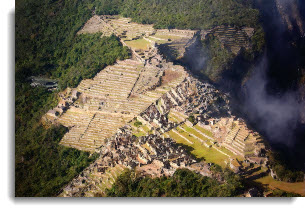 A landslide has blocked the switchback "Hiram Bingham" road up to the Machu Picchu Citadel, preventing shuttle bus service to the entrance of the ruins for up to a week, officials said Saturday.
But the debris — including a giant granite boulder — did not prevent determined visitors from reaching the site.
The large slide of granite and earth covered parts of four sections of the zigzagging road before dawn on Friday.
Access to the Inca sanctuary continued on Saturday with Consettur shuttle buses stopping halfway up the mountain, where visitors then got off and walked approximately 45 minutes the rest of the way.
Two of the four road sections were already cleared,  according to a statement issued by David Gayoso García, mayor of Aguas Calientes.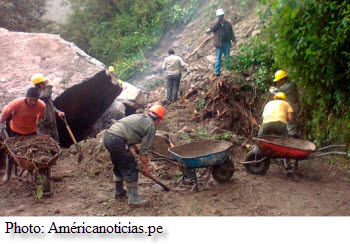 Tourism Police Cmdr. Juvenal Cerceda told Cable New channel Canal N that a hunk of granite seven meters wide by five meters tall was dislodged. It was moved aside over the course of 12 hours by some 85 workers, local media reports said.
Heavy machinery was expected to arrive Monday help speed up the remaining cleanup.
However, during those repairs the Consettur shuttle buses will only be allowed to go as far as Puente Ruinas at the base of Machu Picchu Mountain, according to the statement.
Tourists will have to ascend the hiker's trail to reach the ruins. The municipality said to help visitors, additional support staff and medical tents would be set up along the foot route, which normally takes 1¾ to 2½ hours to walk.
Machu Picchu is Peru's top tourist destination. Upwards of  2,500 local and international tourists visit the archaeological attraction every day, according to Peru's Culture Ministry.