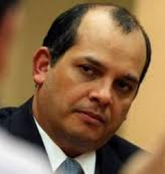 Economy and Finance Minister Luis Miguel Castilla is not expected to leave his post later this month on Independence Day, when Peruvian presidents often change their cabinets, according to Premier Juan Jimenez.
"The information that I have is that the economy minister is staying in the cabinet," Jimenez said in comments reported by daily Peru.21.
Jimenez was responding to rumors that Castilla, a U.S.-educated economist, would resign. Castilla's appointment to President Ollanta Humala's cabinet in 2011 was a clear sign to the private sector that the then-incoming president would maintain Peru's market-friendly economic policies. 
Humala's election raised concerns in the business sector that he would change policies in order to give the state a greater role in the economy. The appointment of Castilla, who was a deputy minister in the previous government, over Humala's economic advisers alienated the President's leftist political base, but at the same time assuaged the fears among investors.
Peruvian presidents often change their cabinets in the run up to the July 28 national holiday. Jimenez said that he "feels good" in the cabinet and hopes to maintain keep his post. "There isn't any news on this matter, even though it is the president's decision," he said.