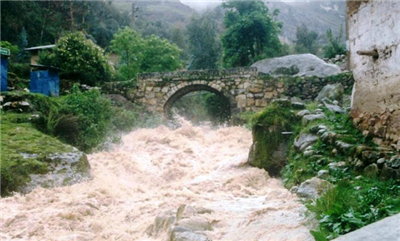 The highway between Huancayo and Huancavelica opened this week, the first time since a huge landslide and floods three weeks ago damaged a section of the highway and the railroad at Huayllapampa, near Cuenca.
Heavy rains caused a whole mountainside to fall off into the Mantaro river. No one in the town on the mountainside suffered injuries but an infantry major, Humberto Merino, working on rescue operations drowned when he fell into the river.   Major Merino's body was recovered 14 days later downriver at the Quichuas reservoir.
In southern Peru, meanwhile, heavy rains have caused floods and crop damage in Cusco, Puno and Madre de Dios.
Late last week, the Civil Defense Institute, Indeci, carried out an aerial reconnaissance of the Madre de Dios area between Puerto Rosario in the upper mountainous area and the flatter plains of the natural reserve of Tambopata, to verify the damage to housing and crops.  Water levels have risen in both the Madre de Dios and Tambopata rivers, flooding a broad area in their path.
"On Jan. 26 it rained for 12 hours non-stop," said Teofilo Torres, the Indeci officer in the area.  The districts affected by the floods include Tambopata, Fitzcarrald, Manu, Madre de Dios and Huepetuhe.
 Torres reported that 592 homes have been destroyed and another 1,296 damaged, as well as public buildings, highways and large areas of farm fields.
In Cusco, mudslides have blocked access to the district of Yanatile on the Calca road, forcing people to travel 20 hours on the road via Quillabamba for supplies.
Meanwhile, a large group of Chilean tourists trekking away from Machu Picchu were unable to get to Ollantaytambo because a pedestrian bridge had been destroyed by rains, and were waiting to be airlifted by helicopter to Cusco.