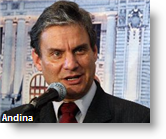 Peru's Justice Minister Daniel Figallo said Tuesday that there is no legal precedent that would allow the government to grant house arrest to former President Alberto Fujimori, daily El Comercio reported.
Figallo said a "legal or constitutional framework" does not exist that could be applied to Fujimori for house arrest.
"So, there is nothing to discuss," he said.
Fujimori is serving a 25-year prison sentence for human rights crimes and corruption committed during his 1990-2000 administration. He applied for humanitarian asylum last year on the grounds that his health had deteriorated since he was found guilty in 2009.
President Ollanta Humala rejected the asylum request earlier this year, based on medical evidence that Fujimori was not suffering from a terminal illness nor did his bouts of depression pose any risk to life.
Fujimori then took on a new laywer, William Castillo, to seek the new strategy, hoping to obtain the government's permission to finish his sentence at home.  Attorney Cesar Nakasaki, who has led Fujimori's defense in all his trials since the first case in 2007, has since resigned.  In three trials, he has been sentenced to 25 years (in 2009)  for human rights crimes, to seven years for corruption, and to six years on phone-tapping and abuse of power.  Under Peruvian legislation, however, sentences are not cumulative and only the longest sentence is served.
The former President now faces a new trial, starting in October this year, on charges of approving the use of approximately S/.122 million (around $44 mn) from Armed Forces funds to bribe and buy off news media publishers and TV owners. The prosecution is requesting an 8-year sentence and civil reparation of S/.3 mn.
The trial, known as the yellow or gutter press case (periódicos chicha), covers the payment to publishers and editors of several tabloids and of TV stations—who were in financial straits or faced heavy tax debts— to follow editorial headlines and guidelines, set out by a team under spy chief Vladimiro Montesinos, to attack and malign politicians, business leaders and anyone else who publicly criticized or opposed the government.  Both Vladimiro Montesinos and his assistant Matilde Pinchi Pinchi have testified that President Fujimori authorized the funds transfer and for this specific purpose.