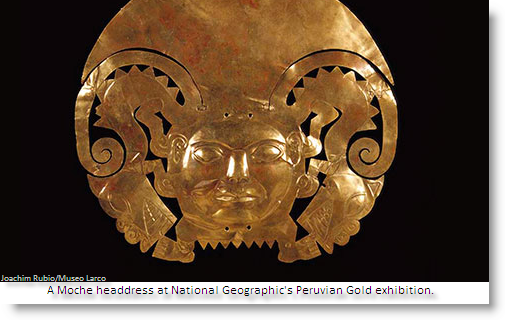 The National Geographic Museum in Washington D.C. has opened an exhibition showcasing the craftsmanship in gold and silver of Peru's pre-Inca civilizations.
The exhibit,  Peruvian Gold: Ancient Treasures Unearthed, is described as a "journey through civilizations from 1250 B.C. to A.D. 1450, learning through the ceremonial gold, silver, ceramics, and textiles created by these sophisticated peoples."
"Visitors will learn about the latest techniques for excavating tombs and examine how technology is offering new insights into the complex civilizations that existed in ancient Peru," National Geographic says on its website.
Fredrik Hiebert, a National Geographic archaeology fellow who is the exhibition's curator, said that the exhibit includes nearly 100 objects that were borrowed from national museums in Peru.
Hiebert said that the focus of the exhibit is  the series of pre-Inca civilizations that flourished along Peru's northern coast, especially the Moche and Sican cultures.
"This is the only time that many of these pieces will come to the United States and probably won't come back again," he said. "You get to see, basically, the pages of National Geographic in 3D."
The exhibition opened April 10 and will run until September.