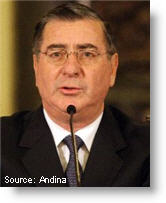 Former minister of the Interior, Oscar Valdes, is the new Cabinet chief and is to be sworn in Sunday evening by President Humala, following the sudden resignation Saturday of Salomon Lerner Ghitis.  President Humala is expected to make an announcement Sunday at the cabinet ceremony.  
Lerner called an urgent cabinet meeting Saturday to announce his resignation, discussed with the President earlier.   Valdes, however, denied that there was any government crisis and said the government's "road map" would continue to be the same.
In his letter to the President, Lerner said he believed that in five months the government had achieved the first phase of generating confidence among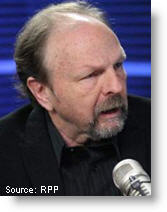 economists, industry and society in general, and had built the foundations to develop social inclusion and equal rights and opportunities for all, and the "historic reencounter with rural Peru."
He then added that, "The beginning of a new government phase requires adjustments in the general management of the government as well as in the strategy of government action and the execution of an agenda in alignment with the governments program guidelines…" and thus presented his resignation to allow President Humala the "complete liberty to make these adjustments."
A close advisor since Humala's first presidential campaign in 2004, Lerner has been seen by many as the person providing a balance between the need to continue a large part of the economic program already in place and the need to not only meet campaign promises of social inclusion but to bring about the social changes that can ensure that economic growth is sustainable and equitable.
According to sociologist Rodrigo Barrenechea of the Instituto de Estudios Peruanos, IEP, Lerner has contributed "rationality" to the Humala administration.
The government has, however, taken a beating in recent weeks with the protests in Cajamarca against the development of the Newmont-Buenaventura gold project of Minas Conga, and despite efforts by Lerner and other cabinet members to find a way for the project to go ahead but with adjustments to ensure water sources are protected for the farming communities, the negotiations have been unsuccessful so far.  
Valdes, a retired military officer, was once President Humala's teacher at the Chorrillos military academy. He left the army when he was sidelined from promotion by Vladimiro Montesinos. Since then he has been a successful businessman in southern Peru and president of the chamber of commerce of Tacna and of various business institutions in the south.
According to Fernando Torres, director of the Ipsos Apoyo polling company, the choice of Valdes to head the Cabinet is a sign that the government will be taking a hard line towards social conflicts, while Fernando Tuesta of the Catholic University's polling institute believes the change marks a crisis in government.  
In the Cajamarca protests, Valdes' decisions and the actions of his Ministry have been criticized for detaining a Cajamarca leader for questioning in Lima and for monitoring the movements of other leaders in the region.