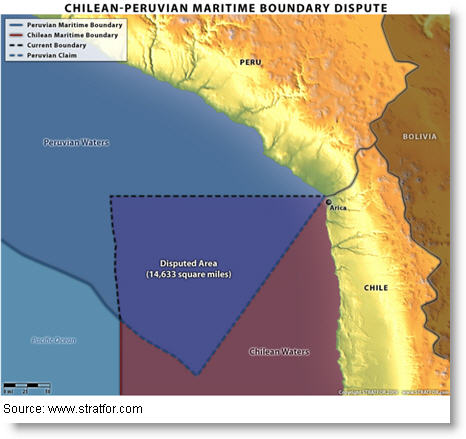 A ruling on the maritime border dispute between Chile and Peru has been pushed back until September, daily La Republica reported.
The dispute, which is at the International Court of Justice at The Hague, was expected in July. However, authorities in both Peru and Chile were advised this week by the court that due to a scheduling issue, it is now expected to be announced in September.
An unnamed Peruvian diplomat cited by La Republica said that the delay could be interpreted as "favorable" for Peru.
Peru filed its complaint at the ICJ in January 2008, during President Alan Garcia's administration. President Ollanta Humala has continued the same legal and foreign relations team, which is headed by Allan Wagner, former Foreign Relations minister.
The dispute dates back to the 1879 – 1883 War of the Pacific, in which Peru and Bolivia lost substantial territory to Chile. Central to the current row is 38,000 square kilometers, or about 14,500 square miles, of fishing-rich sea which Chile currently controls.
Chile says the current border, which runs parallel to the Equator, was established under the two agreements signed in the 1950s, which Peru claims were fishing treaties and that the maritime zone has never been settled.
Peru's proposed border follows the countries' south-western sloping border into the ocean, with the disputed area marked in dark blue in the map below.