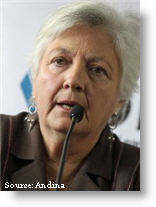 Psychologist Carmen Masías has been appointed head of Peru's anti-drug agency Devida, the government announced Tuesday, immediately following the resignation of Ricardo Soberon  just five months after he took office.
The change takes place at a time when many analysts say Peru is at a critical point in tackling its growing drug trade, and in need of new strategies.
Soberon, a lawyer and expert in the illegal drug trade, was appointed to lead Devida in August, shortly after President Ollanta Humala took office. His proposals indicated a stronger intervention in drug policies by his institution, changing the focus from interdiction and forced crop eradication —which have produced very poor results in the past 10years— to a more comprehensive program to incorporate active participation of coca growers in the changes. 
His appointment was strongly criticized by some local media, including Peru's biggest daily, El Comercio, the political opposition and some analysts of Peru's drug trade, for his past ties with coca growers. 
His defenders, however, said he was one of the better informed specialists in the complexities of coca production and the illegal drug trade.   He managed to survive the first weeks of heavy criticism, which included being snubbed by the Minister of the Interior, now Cabinet chief, and police chiefs of drug agencies Corah and Dirandro, and not included in a trip to Pucallpa organized by U.S. Ambassador Rose Likins to visit crop eradication and substitution programs financed by the United States.
Critics of Soberon said his ties to the coca growing groups compromised his ability to lead Devida and efforts to eradicate the illegal crops. 
Soberon's resignation follows a major change in Humala's cabinet. In December, then-cabinet chief Salomon Lerner Ghitis resigned and was succeeded by Oscar Valdes, who was Interior Minister and a close advisor to President Humala.
More than half of Humala's cabinet was also replaced along with Lerner Ghitis —including Environment minister Ricardo Giesecke and Energy and Mines minister Carlos Herrera— while other high-ranking government officials left late last year over criticism that Humala had abandoned the left-wing of his nationalist Gana Peru party.
Peru is a major grower of coca, along with Colombia and Bolivia. The leaf, which is used to make cocaine, is primarily cultivated in Peru's Upper Huallaga Valley in Huanuco region and the central region known as the Apurimac and Ene River Valley, or VRAE for its Spanish acronym.
Devida will "reinforce what has already been built" but will also now focus more of its energy on programs for prevention of drug use and on rehabilitation, said Masias today.
Masias has a doctorate in psychology from Federico Villareal National University, and is a specialist in family therapy. She was previously the deputy director of the Lima-based Center for Information and Education for the Prevention of Drug Abuse, known as Cedro.
Masias has worked as a consultant to USAID and was also a member of the board of an Ibero-American network of nongovernment organizations that work on drug addiction, known as RIOD. She has also worked closely with nongovernment organizations for the Americas and the Caribbean.